Porting an active Windows 7 installation to New Hardware -howto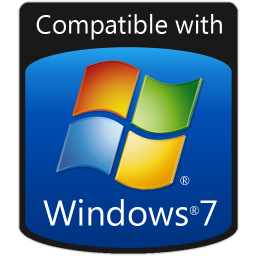 GOAL:
To Transfer an active windows installation to new hardware.
What you will need:
– Basic computer hardware knowledge
– Your Windows 7 Product Key
– Old windows machine still in working order.
– New  tower without hard drive.
– The driver for the Wired of Wireless network controller of the NEW hardware.
– The ability to follow a guide.
Warning:
While these steps have been tested by myself, I can make no guarantees that this will work for each and every setup. As good practice dictates, you should always backup your most important items (pictures, documents, movies, music, favorites, etc…) to some kind of external media (DVD, Flash Drive, External Hard Drive) as a precaution. YOU HAVE BEEN WARNED.
Preface:
Have you wanted to upgrade your computers components, but was not crazy about the idea of having to re-install windows and all of your programs and personal files? Well, no need to fret, as windows supports a utility for doing just that. This article is written from a Windows 7 perspective, but the same steps can be performed under Windows Vista with more or less the same results.
Step 1
Prepare your system. REMOVE YOUR CURRENT USER PASSWORD(s).  Make sure your computer is exactly how you want it. Install any software or updates that you want included on the new machine. Remove any junkware or programs that you do not want. Empty your recycle bin. Much of this is optional, but does not hurt.
Step 2
Navigate to the " C:\Windows\System32\sysprep " directory.
Launch the "sysprep.exe" program.
What this utility will do is allow you to 'Generalize' the system. By generalizing your system, you are for all intents and purposes wiping out all of your installed drivers. When you wipe out the installed drivers, you can place your current hard drive into a new hardware environment.
Step 3
Now that you have sysprep.exe utility loaded, you will want to do set the options EXACTLY as seen below: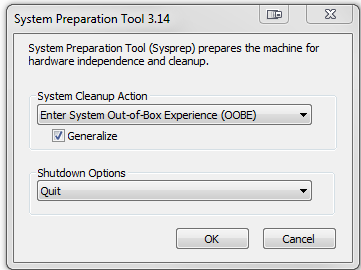 System Clean up action: Enter System Out-of-Box Experience (OOBE)
Generalize: Checked
Showdown Options: Quit
Make sure that these settings are EXACT. This is crucial for the following steps.
Once sysprep.exe is finished it will exit. There will be no user input.  What this is has done is generalize the system, and restored the out of the box state (OOBE).
Step 4
At this point in time you will want to shut down your computer. Unplug the machine (remove the battery if on a laptop) and remove the hard drive.
You can now install the hard drive into your new machine, and power it on.
Step 5
Have your product key ready, as you will need it to finish the installation.  The OOBE wizard will take you through the initial setup. Keep in mind that your current username will be in use, and you can not reuse it. What I would recommend is setting the username to something random or generic, perhaps the manufacturer of the computer, or your favorite animal or food.
Step 6
When the computer loads the welcome screen for the first time, LOG INTO YOUR OLD USER ACCOUNT, DO NOT LOAD INTO THE NEWLY CREATED USER.
Step 7
Click start orb. In the run box type "add or remove user accounts" and hit enter. When the following window opens, select the newly made user account. Then select "Delete Account" from the left had column. Finally select Delete Files.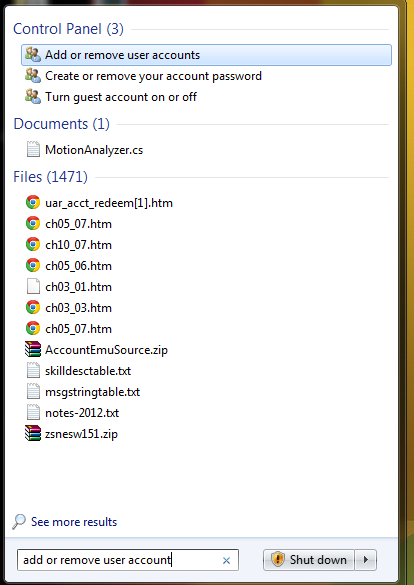 Step 8
Make sure you have your Ethernet adapter installed (hopefully you obtained the driver prior as suggested). Try to run Windows Update to install your basic hardware, or manually install your new hardware. Once you have installed your new hardware, CONGRATULATIONS you have successfully ported your old install to new hardware!